Dust up at the Hanford Nuclear Site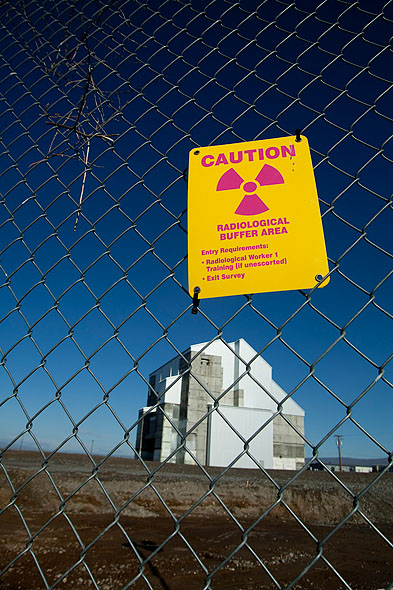 My recent visit to the
Hanford Site
, a decommissioned nuclear production complex near Richland, Wash.  ended up being challenging in ways I never expected.
When I first took the assignment from The Washington Post, I presumed that gaining access to would be difficult, but after a few phone calls, I got connected with Geoff Tyree, with U.S. Department of Energy, who was more than helpful in coordinating a visit to the site, where plutonium was once manufactured for use in the first nuclear bomb and in Fat Man, the bomb detonated over Nagasaki, Japan.
When I arrived, Geoff warned that the previous days rains had preceded high winds that might shut down some of the work regularly done at the site. That proved to be true right from the get-go, as we rushed to photograph contaminated soil removal outside of the H Reactor. I was able to see the final load of soil being loaded onto a truck before they ceased operations due to the weather.
As we moved to our next planned work site, the wind picked up even more. Work continued, but the wind pushing me around made it difficult to shoot pictures while standing on the roof of the N Reactor.
Scores of tumbleweeds blew across the road, occasionally hitting our truck as we travelled the significant distance to the next stop, a low-level waste disposal site. Here, work had already been called off for the day, but I tried to withstand the blowing sand to get some shots of the empty cells where waste would be buried. I was reminded sand storms I had experienced during while covering the early days of the Iraq War for The (Colorado Springs) Gazette in 2003. I could hardly see ten feet in front of me, and when I managed to get back in the truck without the door blowing off, I was left chewing on grit.
After a brief trip to a waste packaging facility, where work had stopped due to wind interference with their ventilation system,  my day was over. I filed the pictures I was able to get and The Washington Post's story on the distribution of stimulus money to Hanford under Recovery Act of 2009 is online now for reading.
The Hanford Site closes due to weather maybe twice a year, according to Tyree, and just my luck, this was one of them. Everyone I spoke to agreed, it was the heaviest winds they had ever experienced at the site.